Patient Stories
Philip
Amyloidosis Patient Ambassador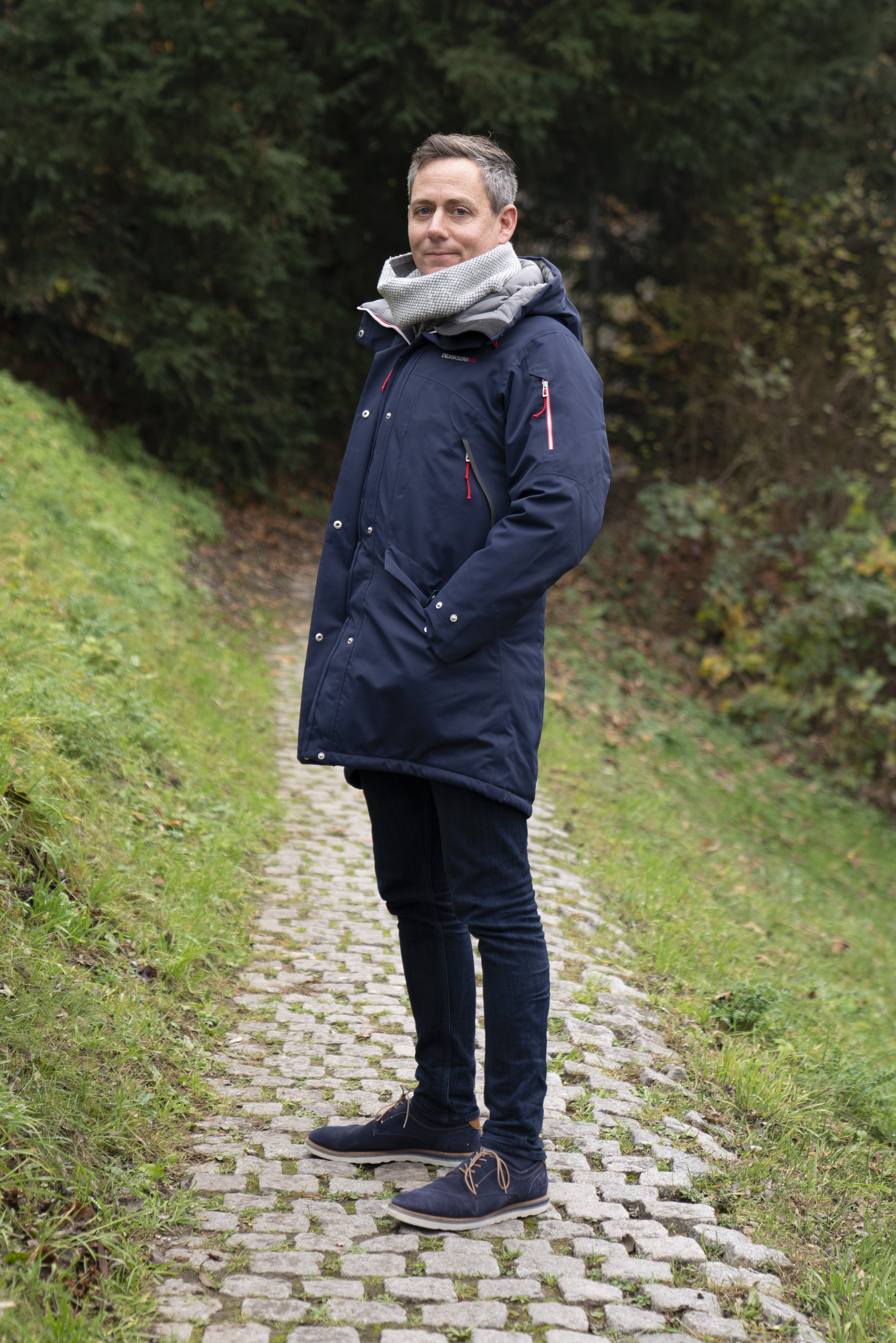 Ten years! Think back to the last ten years of your life. Ask yourself: Have you used all your time well? Have you made all the right choices for the right reasons? Have you been honest with your thoughts and comments? Have you taken the days for granted because you thought you would have many, many more? Who hasn't? I know I have. But that was before I'd heard of hATTR amyloidosis.
I would like to thank Alnylam Pharmaceuticals for sponsoring and supporting me to share my story of living with hATTR amyloidosis. It's lovely to be here, of course, but accepting this opportunity made me realize I have a problem—I'm a terrible patient ambassador. Why? Let me explain.
It's 2016. My doctor tells me, with a very stern expression on his face, that life expectancy is about 10 years for people in my condition. My heart makes a little jump. No, it's not what you are thinking—it is a good jump. Honestly, I could not believe my luck. Ten whole years? That's 3,650 days! 3,650 finite, resolute days on a silver platter. Ten years in which I could completely shape my life like a sculptor shapes a clay statue. All these days given to me as a wrapped Christmas present.
Life is about choices. Suddenly, I could choose to stop my stressful job in business and switch to something that I might actually enjoy. I could choose to read books just for fun. I could choose to cook dinners at home for my family and actually be there to share with them. I could choose to change so many diapers, take a deep sniff every time, and be thankful to enjoy the presence of my kids. 3,650 days to make a conscious choice to be present in the here and now, every day. Because now, my days are more clearly numbered, and the countdown has begun. You see why I am not likely the best ambassador?
Even when I was very young, I assumed my days were numbered. I matter-of-factly expressed this to my mother on more than one occasion. It was nothing specific that made me think this—just my inner-voice, I suppose. It wasn't until my beloved uncle was diagnosed with hATTR amyloidosis that I began to understand the potential for problems. Because it is a hereditary disease, several of us in my family decided we should also be tested, never thinking one of us would have it. Certainly, I didn't. Suddenly, my prophetic words to my mother were made real.
But what is this disease? All these words and pronouncements were being tossed at me. A genetic mutation? Excess proteins build up in parts of the body and can cause organ failure? What? At first, I made a choice to ignore it all. I am young, I boldly stated. I am fit. I have no symptoms. I never thought I could be a carrier of something so life changing. But I am.
Now, with so much security about my certain death gained, I ambitiously set myself up for radical change. I knew I needed to make different choices. I wanted to make them. I started surfing as an ultimate expression of my reborn new and free lifestyle. Bothered neither that others were at least 20 years younger than me, nor that my spending on cool surf gear far exceeded the progression of my skills, I dived in head first, as they say. It was something that I had always wanted to do, and now I was going to do it. No time to waste. I also started running competitively and was able to make progress with my results. I decided that no challenge was too daunting. I am young, I am cool, I can do this.
At work I decide to tell people about the disease. I also begin to tell them what's on my mind much more often, since I figure that numbered days should be honest days. I choose not to hold back my real thoughts regarding all sorts of topics. I also make my family my main priority. None of this sits well with my colleagues. Being brutally honest comes with consequences, so my employer tells me to involuntarily seek another job. This is highly confusing to me. Here I am simply trying to live my life differently, be more in the present, be with my kids, and all I get is the proverbial t-shirt? Obviously, a joke, but you get what I mean.
As Major Tom in a spaceship drifting off with a newly narrowed mission to live my life the way I should have always done, I feel every social process takes too much time. I've always felt this way, actually. Why can't we just speed up this meeting? Speed up to acquaint? Speed up to become friends? Speed up and be brutally honest? Once you realize that a lot of things that are happening around you seem shallow and trivial, there is no going back to formalities. What is truly important in one's own life is not always understood by others. I have learned from other hATTR patients that it is natural to feel impatient in this way.
In 2017, good news arrives when a few pharmaceutical companies deliver tangible options to help patients with hATTR amyloidosis. A great sense of relief comes over me, to be sure, but also panic because my new world order has been obliterated in a split second. With no finite end to my existence as a human being, should I choose to return to the career rat race? Stop spending so much quality time with my family? In the end, relief wins over confusion.
I've already learned many lessons from my diagnosis. My ten years remain ten years on a silver platter. I still choose the life I should choose if I had only a year ahead of me. I choose to live my life as mindfully as I can.
However, I have no obvious symptoms, so I choose to ignore the actual sternness and reality of the disease.
In 2017, I attend an amyloidosis convention in Paris. I am confronted by the suffering of fellow patients. I meet so many men and women whose lives are changed because their symptoms are profound and limiting. There's no surfing for them. No running. And sometimes no walking anymore. They have no choice.
Instead there is a looming realization about kids growing up alone because they've lost a parent. There is an exhausting search to find out what is wrong, only to find out you have this very rare disease. There is loneliness. There are fights without end to get the right treatment. There is caring for and losing a loved one. Losing a job. Financial struggles. There is depression, even thoughts of suicide. This disease is a slow but sure wrecking ball. But that wrecking ball does not only hit your body. It hits your family. Your work. Your children. Your home. Your finances. It hits everything that was formerly stable.
Hearing my fellow patients' stories and seeing their suffering breaks my heart and pushes my own reality to the forefront. So now, anxiety starts to sink in. I am starting to grow wary.
I follow the development and distribution of the various drugs. The process seems to be slower than I expected. How about the side effects, I wonder? How do we know the long-term effects of the treatments? Will these meds be around in ten years? If not, what then? What will happen to my health? All kinds of scenarios start to invade my thoughts, some more frightening than others.
My biggest anxiety concerns my children. Having seen the drastic and unexpected effects of the disease on other patients, just the sheer chance they might have to suffer to this extent fills me with dread. I feel responsible for them possibly getting the disease. They may face the prospect of a severe debilitating disease. How can I as a parent protect them from that kind of harm? What choices will they have?
Suddenly it is 2018 and a new announcement changes everything yet again. My partner tells me she has been diagnosed with the unexpected gift of a fourth child on the way. At first, I go into action mode:
• We need to get it tested!
• We need to know what to do if it tests positive for the disease!
• We need to face the consequences!
Then my partner brings the photo of a sonogram to me. You know, a picture of the fetus in the womb. I see arms, legs, a little head, and a heart. In one instant, I realize that our greatest gift is life itself, and whatever the future holds we will manage it as it happens. We chose then and there to move forward and let things take their course. No tests. No going back.
As a famous comedian and director once said, life is full of misery, loneliness, and suffering—and it's all over much too soon. I now realize that I have a choice to use my gift of life however long it may be. And so, I'm on a mission.
• A mission to help others with the disease.
• Raise awareness about the disease with the highest urgency.
• Help organize funds and resources for diagnosis and treatment.
In effect, I am on a mission that will benefit my own children, and perhaps, my grandchildren.
At the start of this I said I did not think I would make a good ambassador. I did not think I had anything worthwhile to say. But I was wrong. So here I am, deeply grateful for this gift of life and deeply grateful to those who have worked incessantly for more than ten years on treatments for this disease. I am thankful for my new mission which leaves me where I started: What will you do with the coming 10 years ahead of you?
Thank you.