Patient Stories
David
hATTR Amyloidosis Ambassador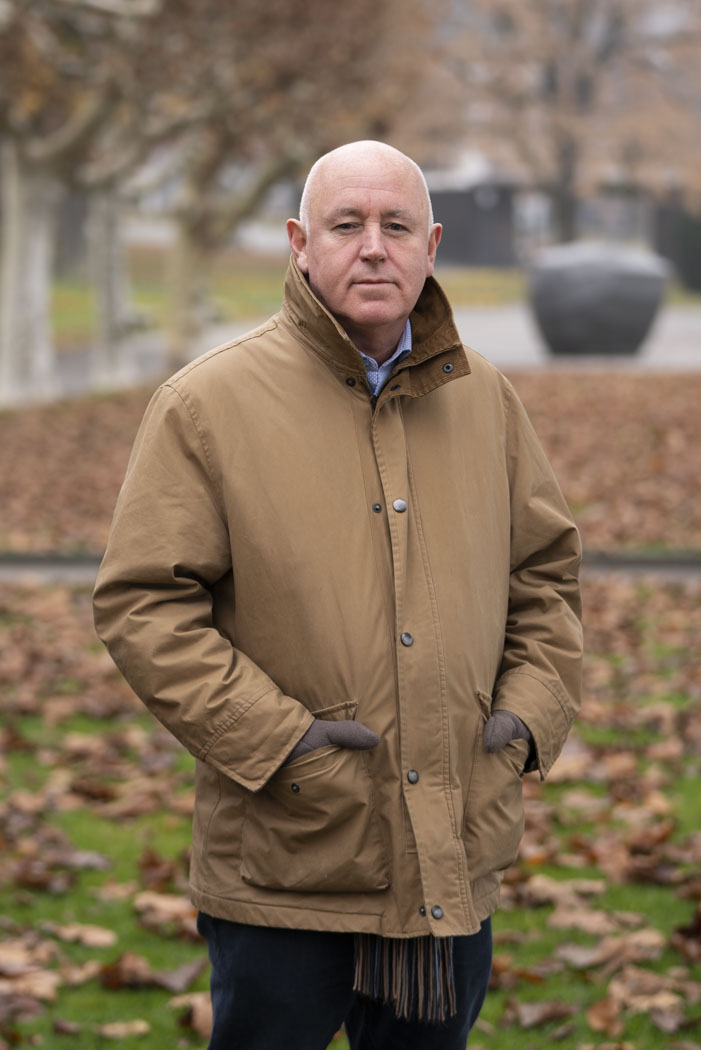 Hello, everyone. For a long while, hereditary ATTR amyloidosis was relatively unknown in my family. My mother, who did have the gene, passed from cancer before she ever learned she had the disease. I've since discovered that many of my mother's Scottish and Irish relatives died relatively early with cardiac and peripheral neuropathy issues. However, their deaths were never shown to be amyloidosis because it was not widely understood, which I still believe to be the case. So, I would like to thank Alnylam Pharmaceuticals for sponsoring and supporting me to share my story of living with hATTR amyloidosis. I appreciate the opportunity to bring awareness to this disease.
I live in England with my wife of 34 wonderful years, Susan, and together, we have three children—Charlotte, Hannah, and Jack. At first, Susan and I were not able to conceive, despite many years of IVF. So, we adopted Charlotte and surprise! We had two biological babies three and 11 years later. Family has always been very important to me—not only my immediate family but our extended family, as well. We're all very close, and over the years, we have had many great times together. I feel very fortunate that we all get on and enjoy each other's company.
I was also lucky to work with such fantastic people during my 40-year-long career as a retail sales manager. I consider myself a people person and think one of my strengths is building positive relationships between others. So, I enjoyed my job and believe I did well at it.
My life was good. I was happy, and my family was happy. However, my first recollection that something wasn't quite right was when I began having difficulty walking, particularly uphill and over long distances. Walking is actually one of my main loves, and I've walked up a mountain in Wales for charity several times. However, the last time I did it, I was struggling to keep up and had to stop many times because of chest pains and breathlessness. I still made it to the top, but it took much longer than I was used to.
After noticing these symptoms, I would, on occasion, end up in hospital with heart issues. Sometimes, I had an erratic heart rate and felt faint. Besides the fact that I was struggling to do certain activities, tests showed nothing. Actually, over the next two years, tests on my heart showed that the inside of my heart was healthy, and my valves and arteries were in good condition.
During this same time, my sister, Ann, who is 13 years older than me, was going through a vast number of health issues. Ann's symptoms were varied and unclear—she had significant weight loss, muscle weakness, leg swelling, angina, shortness of breath, and fatigue. Her general practitioner sent her to many different consultants to try to understand what may be causing all of her seemingly unrelated issues. Finally, after a number of years, a cardiologist who knew of amyloidosis recognized Ann's symptoms and felt it pointed to one specific disease: Hereditary ATTR Amyloidosis. He sent her to a specialist who confirmed his suspicions—she had the disease.
Even though I wasn't experiencing all of Ann's symptoms, I decided to get tested anyway. After two days at an amyloidosis centre, I was waiting with my wife for the consultant to walk in and tell me if I, too, had it. During my stay, I had seen patients who were living in the advanced stages of this disease and they didn't look anything like me. Even seeing how far my sister's illness had gone, I still wasn't convinced that I could have the same thing. Of course, I had read all of the grim stories on the web and I knew there was no known cure—but often, the information online was so out of date. I did my best to remain positive and I still had to believe it would all be okay. I kept telling my wife the same—the tests had gone well, and it would all be okay.
Well, in came the consultant. He walked in and quietly shut the door behind him, his face was confident and professional. Then he said it. He calmly explained to me that I also have hereditary ATTR amyloidosis, an inherited gene mutation that accumulates amyloid deposits in the tissues. I was shocked, and I think it needed time to sink in. My wife looked over at me and I could see her eyes watering, which is what affected me the most. Thankfully, my consultant took the opportunity to talk about the future and how he felt positive changes were coming for the amyloidosis community.
My two oldest children did not take the news well. They were really upset and concerned that they were going to see their father deteriorate, especially since they'd already seen how the disease affected their Aunt Ann. I tried to keep a positive outlook and reassure them that I was in great hands.
It's been four years since my diagnosis, and since then, a number of scans have confirmed that the amyloid in my heart has increased and signs of it going into the peripheral nervous system are now occurring. Due to my symptoms, I took a period of time off of work. My role in the company required physical demands and long hours of travelling, so I often had to stop in the car to have a sleep. I asked my doctor what she thought about me retiring and she said, 'I've never met anyone who said they retired too early but have met many others who said they left too late.' It sounded like good advice, and I decided it was the right time to go. So, I made the difficult decision to retire from the job I loved.
This diagnosis certainly changed my priorities. Now that I am retired and, for the most part, still physically capable, I'm ready to see as much as I can. That's my new outlook on life: To do as many things now whilst I can. I've always wanted to see the whole world with my wife and family, so that's what I'm going to do. I'm planning a number of significant holidays and look forward to making more memories with my family.
Sadly, my older brother, Hugh, was also diagnosed with the disease recently, which came about from cardiac issues that put him in hospital. After a number of tests, he now has a pacemaker to assist his heart. My sister Ann sadly passed away in January 2019. She lived with the late stage of the disease for a number of years. As a family, we watched her deteriorate very slowly. Her weight, strength, and breathlessness were daily challenges to her. She was housebound and, in the end, had a limited quality of life. A key target for Ann was to stay at home, which, apart from the last four weeks of her life, she achieved.
Over the years, I had visited her regularly and throughout that time, she inspired me with her positive attitude and how—even with her limitations—she found pleasure in every day. However, she also showed me where my health could go with this disease and that frightens me. Ann had no specific drugs for this disease. Although there is no cure available, she did have great support from the various hospitals, doctors, and finally the hospice team who supported her throughout her illness.
But, for me, the most frightening part of it all is wondering how it will affect my children and my other relatives. Two of my children, as well as at least a dozen nieces and nephews, could be living with this disease. Of course, that plays on your mind. I hate to think of passing something like this on to my children and knowing it could even pass on to my grandchildren.
My wish is for a greater understanding of this disease. It feels as if so many health professionals aren't familiar with it, but the quicker people can receive a diagnosis, the quicker they can receive treatment. I'm provided with great comfort and hope when I see the current research and treatment efforts. Now, I feel the future is much brighter for not only my biological family but my entire amyloidosis family, as well.
Thank you.