Patient Stories
Margarida
hATTR Amyloidosis Ambassador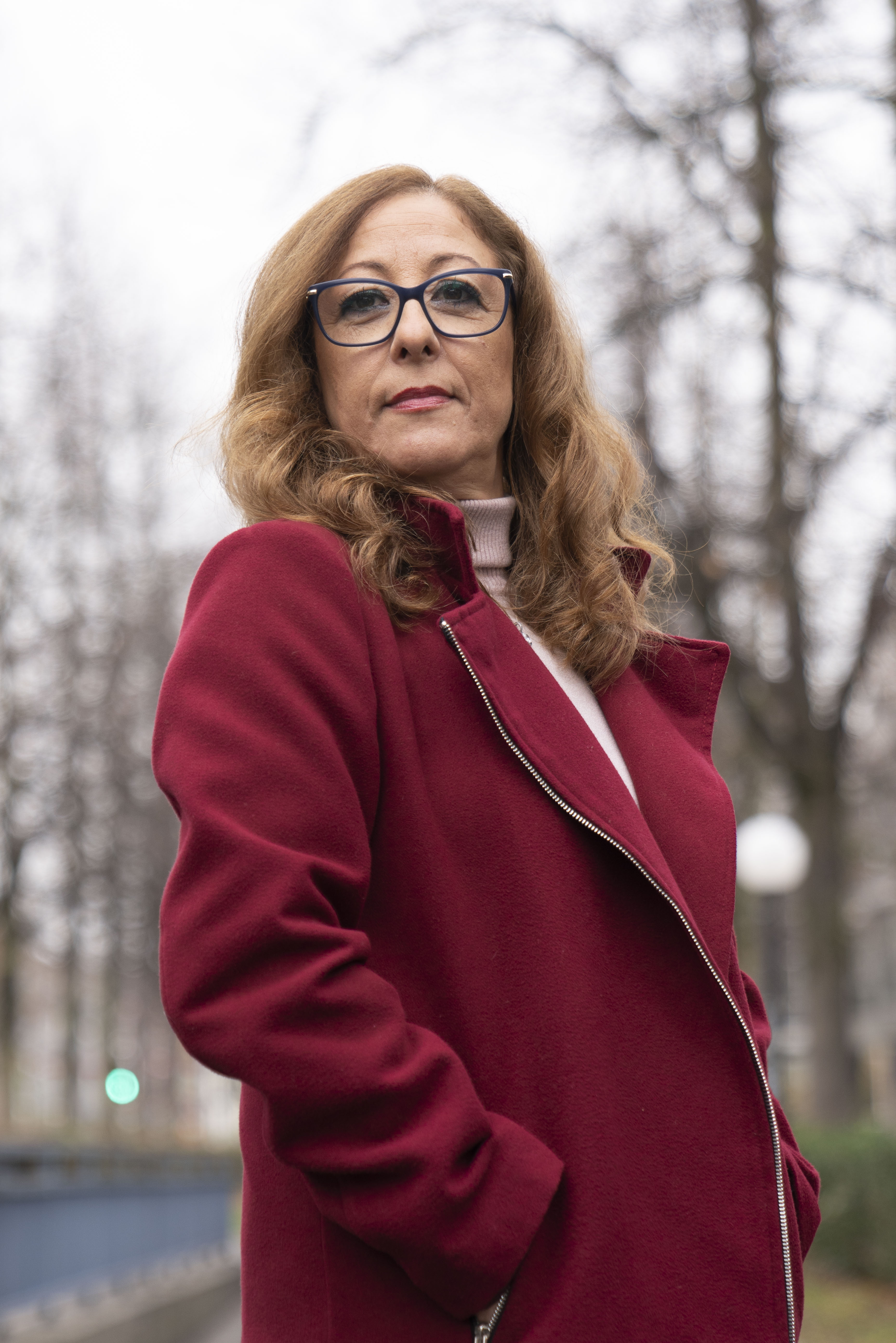 I am an adventurer at heart. From my birth home on the Azores Islands, I loved sitting in a window overlooking the sea and gazing into the night skies. I would often picture myself flying off to some exciting destination. Even then, I was a restless spirit with a desire to start my journey and make my mark on life.
My name is Margarida. I would like to thank Alnylam Pharmaceuticals for sponsoring and supporting me to share my story about caring for my hubby, Vitor, who is living with hATTR amyloidosis. Amyloidosis is an inherited gene mutation that causes amyloid deposits to build up in your body's organs.
When I was growing up, I had family in Portugal, Canada, and the U.S. I had many options as to where to start my life and chose to go to Canada to live with my aunt. This decision turned out to be a good one. It wasn't long before I found a job, had money to send home to my family, and found true love—not once, but twice—but more about that later.
At 17, I was a young girl in a very big country. My first job was as a live-in babysitter where I found I had a real passion for caring for others. It was something that would serve me well in my adult years. It wasn't long before I was making friends and having fun. I was young and enjoying life when I met him—my prince—my Victor. It was love at first sight. We both fell hard. He was strong and funny. He knew how to make me laugh and within weeks, we were inseparable.
As we got to know each other better, Victor confided to me about a few things that he struggled with. He experienced weakness in his hands and numbness in his feet. He said it always felt like his boots were too heavy for his feet. He would pack two meals for lunch. He would eat one, vomit, then eat the second meal he had packed. But Victor didn't let those issues bring him down. We focused on our future, saving money for a house and the family we wanted to start.
When even more symptoms started to show, Victor declared we had to separate. He knew what his symptoms meant. His mother had struggled and passed away from similar symptoms that were diagnosed as the rare and hereditary disease—amyloidosis. As her caregiver, Victor knew what his life (and ultimately, mine) would be like as the condition took hold. I understood that he was trying to protect me from a difficult future, but I refused to walk away. He was my future. Victor decided to go to Portugal for blood work to confirm whether he had amyloidosis. I always sensed he already knew the answer.
His test results were conclusive. Victor had inherited the amyloidosis gene, probably from his mother. There was no cure. It was a hereditary condition, and a liver transplant was the best hope for slowing the disease progression. We accepted the diagnosis, stopped talking about our plans for children, and settled back into our life. With his diagnosis confirmed, I was even more dedicated to supporting him. We had many happy years together, but it was obvious that Victor was becoming weaker and weaker.
When Victor was approved and transplanted in 1994, we had such high hopes, but his recuperation was very slow. He'd lost so much strength, he was confined to a wheelchair. I took over the cleaning, cooking, and getting Victor to his appointments. When he soiled himself, I would help him into the shower, clean him off, and help him get redressed. When we were unable to get somewhere with his wheelchair, I'd pick him up and carry him on my back. We went everywhere that way: to the beach, to restaurants. Yes, we did get plenty of odd looks, but I would do anything to give him a life independent of any limitations.
Maybe it was from being carried around on my back, but Victor came to realize I was staying right with him. I didn't see his sickness or his wheelchair. All I saw was myself reflected lovingly in his eyes. We married in 1996.
When the complications of amyloidosis became too much for us to manage alone, we moved to Portugal to be closer to his family. It was a hospital visit unrelated to amyloidosis that caused Victor's untimely death. Three months after our move, Victor was gone, and I was alone. I was not prepared for him to die. I wanted to die with him.
Months passed while I mourned Victor. Lifelong friends surrounded me with love. I slept in their homes and tried to heal while I processed what had happened. Then slowly, very slowly, I felt a calling, a need. If I was going to go on living, I was going to make a difference for others struggling with the condition that had taken Victor. I knew better than anyone exactly what these people were going through. I understood their fears, despair, and dreams. I knew how to help. I felt my spirit slowly begin to re-emerge from the darkness.
I started visiting other patients with amyloidosis through the Paramiloidoses or PAF association. I'd help them with whatever they needed. Sometimes I'd drive them to their appointments. Sometimes I'd just try to bring some happiness to their days. One patient said he dreamed of eating some "good" pizza, so I took up this challenge. I made and delivered not one, but six different types of pizza. We laughed and ate pizza for hours.
Later, I was doing volunteer work at the association's food bank when a man caught my eye. His name? Vitor. I knew he'd already been transplanted in Canada. He walked with a cane and was so handsome.
Now I know what you're thinking: two men with the same name and the same chronic condition? Friends told me I should run away as quickly as possible. Doing that never entered my mind.
In my heart, I believed Vitor and I had been brought together for a reason. We went out for coffee, to movies. We had dinner and found we had mutual friends. We both loved the outdoors, and we'd fire up our 4x4s and go off-roading. No adventure was off limits. I fell completely in love with a second man named Vitor.
I couldn't believe I could be so happy again. But we both had a deep understanding of how amyloidosis is a progressive disease, and we both recognized the signs when the symptoms grew worse. But my Vitor, he's a fighter. He goes to physio three times a week to help maintain his muscle mass. He works with weights to strengthen his arms and legs. When chronic nausea and diarrhoea strike him, he'll commit to eating one more bite of his meal. We work as a team to help him transfer from bed to chairs to standing.
At this point, Vitor doesn't need a wheelchair, but his lack of core strength can make mobility difficult. I keep threatening to lift him up and throw him on my back, but he's made it very clear that is not a good option for him. He is very independent.
As for me, I love my husband, and I hate amyloidosis. I've known two men with the same devastating disease. It makes me angry, tired, and frustrated. I yearn for a cure. I cry from a deep, dark place when I'm alone. I don't want to go through this again, but if I must, I know what to expect. I also know I must be strong.
Often, I get my strength from Vitor. He inspires me through his attitude and dedication to do what must be done. Others in the amyloidosis community look to him for inspiration, too.
I also take comfort and find strength in other sources, too. I am lifted up and encouraged by motivational videos on the internet. I can reach out and find support from my core group of friends who have been there for me for more than 20 years. They're more than friends. They're family to me.
Vitor and I have been together for 13 years, and we remain committed to each other. We know how important it is to always keep the lines of communication open, and if there's a problem, we talk it out. Life is too short. We're there for each other.
When we go to Vitor's appointments, I always take notes. If I'm not happy with Vitor's blood test results, I ask questions until I get answers. I want to know what's going on with the latest research and development for every treatment and therapy. It's the only way we might beat this.
Vitor and I are still very involved in the association where we originally met. Through the association, Vitor has traveled throughout Portugal and to other countries to learn about what is being tried and tested. We've found so much support and information through our local and regional organizations.
Did I ever think this would be the adventure that my 17-year-old self would seek out? Probably not. But as I look back, I consider myself lucky. I've been able to turn my passion of caring for others into something that makes a difference in people's lives. I'm committed to helping others fight the most difficult battles of their lives. And I've learned that sometimes a once-in-a-lifetime love can happen twice in a lifetime.
Sometimes we seek adventure and sometimes it seeks us. You'll never know what might be waiting for you or what a difference you might make if you don't take the first step in that journey.
Thank you.